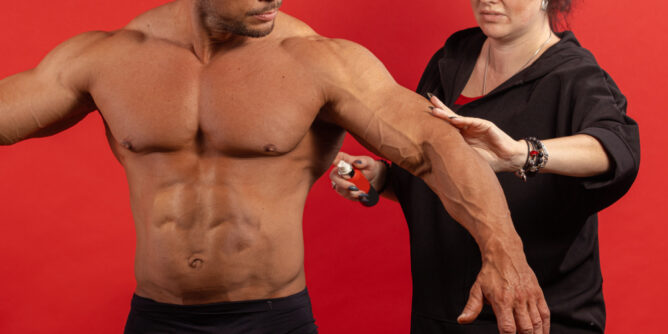 Everyone in the neighborhood wants to look tanned!! There are a lot of great and bad products on the market that can give you a sun-kissed look!! sunless tanning spray is a trend that everyone likes.
It has become one of the best ways to get a tan, and it also has many other benefits. You might be wondering why you should pay more for vitamin D when you can get it for free from the sun.
Spray tanning from spray tan companies is here to give you a glow without the sun and in a safe way! Even though UV rays can cause sun damage, spray tans don't last forever!!
Benefits of Spray tanning
No UV Exposure
The first and most important thing that everyone notices about spray tanning is that it protects against UV rays. It lets your skin keep its healthy glow without putting your health at risk. Melanoma, a type of skin cancer, is less likely to happen if you are exposed to the sun or UV rays. You can count on this method to save your life.
More toned and more slimmer
70% of people think that getting a spray tan not only makes your skin look better, but also makes you look slimmer. Spray solutions and tanning have come a long way in the past few years. The products are more adaptable so that they can fit all skin tones.
Hydrate and nourish
Hydrating the skin is just as important as hydrating the rest of the body. It is important to keep the body fed and hydrated at all times. With a hydrating spray tan, your skin will not only feel good, but it will also look good.
Instant and Time-Saving
Let your skin look good all the time. We all know how hard it is to get back the glow of summer after the winter. Spray tanning gives you more ways to protect your skin from tanning in the sun. Get the color you want without any trouble. Spray tanning salons not only save you time, but they also give you long-lasting results in just a few minutes.
Get the Shade of your choice
If you don't give one shot, you won't know how well the self-tanning products you bought from the store work. You don't know if the color you bought will work with your skin tone or not, or if it will be too dark, too light, or just right.
Healthier and Fitter
Who wouldn't want to be in good shape? We all do!! As soon as the spray tan is on your skin, you can feel better about yourself. Getting vitamin D in the winter is almost impossible, but you can get shots of it at the salon and get healthier and stronger.