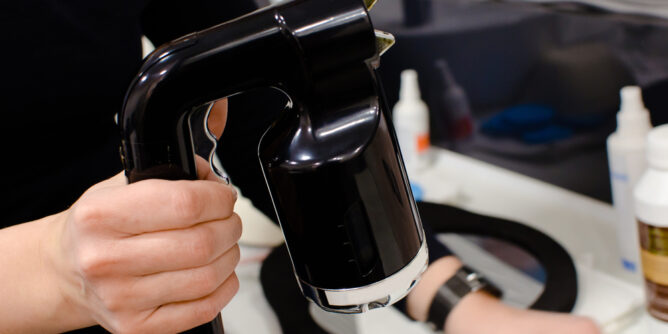 Spray tanning done with an airbrush rather than a spray gun is known as airbrush spray tanning. Compared to a spray gun, the airbrush gives more precise control but is typically slower.
A technician applies the tanning solution with an airbrush and compressor to create a consistent background spray pattern in airbrush tanning. These tanning products include the active component DHA, which interacts with the skin's outer layer to give off a luminous appearance akin to conventional tanning.
With the color accentuating a person's natural curves and attractiveness, such as a light sun-kissed glow or deep tan, airbrush tanning offers a fantastic alternative to conventional tanning.
Benefits of airbrush spray tanning
There are so many benefits that come from Airbrush spray tanning, here are just a few of them:
Rapid result
Many people who utilize airbrush spray tanning quickly get their glowing skin. It can take a very long time to develop a gorgeous glow through exposure to the sun or tanning in a bed, and several health risks are involved.
It is really quick and simple. In a matter of minutes, an airbrush tan will help you get the perfect tan you require. Since no extra appointments are necessary, the process may be completed in approximately 20 minutes, leaving the skin radiant and well-tanned.
No visible tan lines
With either traditional tanning or some different types of spray tanning, unwanted tan lines are rather prevalent. In contrast to airbrush spray tanning, which provides the best instant spray tan consistent all over, they leave behind undesirable dark spots or uneven skin tone.
In the booths, an airbrush tan is applied using a fine mist that produces an immaculate, smooth finish. Since the spray dries rapidly, there are no concerns about smearing or leaking, and the body is left with an equal, healthy natural glow.
More control with hand application
Because airbrush spray tanning is entirely performed by hand, the tanning solution may be distributed with more accuracy. The solution is sprayed on the body when applied by hand, and the airbrush is used to control the solution's flow and thickness.
Because airbrush tanning can be controlled, tan lines are optional, and a gorgeous, even glow is produced from head to toe.
Natural looking tan
An airbrush tan resembles a natural tan that is attained from spending the entire day outside in the sun. Even with the light, medium, or dark treatments, the final result will still have a naturally darkened appearance.
Body highlight
In addition to looking better overall than a tan from the sun or a tanning bed, an airbrush tan may also be utilized to draw attention to certain parts of the tanner's body. Many individuals utilize airbrush spray tans to highlight their muscles and give them a more defined appearance.
Conclusion
The best method to get year-round healthy-looking skin is with an airbrush tan. An Airbrush tan is a long-term investment in your skin's health, not simply for the present.